How to make bird (out) house
Before we start making a birdhouse, we need to realize who it is for. In the center of a large city, it is useless to hang starling huts, as they settle near fields and meadows. On the other hand, even the busiest parts of the city do not mind fly agers or umbrellas. The birdhouse must also be the right size. For example, the bottom of a 10x10 cm long floor plan has a diagonal of approximately 14 cm, so that only a bird of a similar size or smaller can sit on the nest in the nest.
In this manual there is a booth for titmouse and similar smaller birds. The inside of the booth should have the dimensions 10x10x25cm. In order to make the booth more interesting, it is made like a tub. The roof is sloping and the ends of the boards are chamfered.
The dimensions are approximate because I used clippings. I set the stop on the circular so that I got two identical opposite walls. In the end, I finished the bottom exactly in the created square.
There is a 3 cm diameter inlet in the front wall. I still used a stencil and roughened the area around the heart-shaped hole. Roughened wood should absorb more stain and darken.
The interior of the hut must have rough walls so that adult birds, and later young, can climb out of the hut. Since I only had planed boards, there are grooves on the inside of the front board.
We cut a hole for hanging on the back of the booth.
We glue and screw the walls together with the bottom. We do not stick the bottom around the entire perimeter, but leave a small slit in the corner through which condensed water can drain.
The same floor plan as the bottom will be from the bottom of the roof. Sand the edges so that the roof can be opened and the booth cleaned. Glue the roof and seal with a little beeswax. The door on the imaginary caddy is, of course, fixed.
Búdku zvonka natrieme. Ja som použil moridlo z orechových šupiek a fermež z ľanového oleja. Plocha srdiečka nestmavla, tak ako som si predstavoval. Rozotrel som na ňu ešte preto pár kvapiek kyseliny, ktorá sfarbí drevo do červena.
It is good to make the booth in the autumn so that it will ventilate by the spring.
We put cardboard on the bottom to make the booth easier to clean. After nesting the birds, the hut must be cleaned.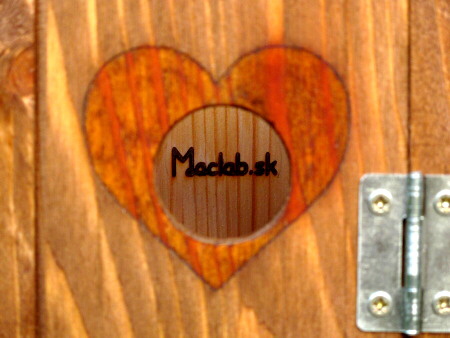 And lastly, the logo, because even the birds are already poking, where there is a guide to the most beautiful booth.