How barefoot shoes affect the size of the foot
Barefoot shoes are a minimalist shoe that is supposed to evoke the feeling of walking barefoot. It is characterized by a thin sole and a loose construction that does not restrict the natural movement of the foot. Prolonged wearing of such shoes may allegedly cause the foot to widen and the number of shoes to increase.
Five fingers shoes


In addition to a thin sole, the toe shoes also have separate toes. This allows you to work even more with your fingers while walking. Vibram Fivefingers Vtrail version 1 was used in this test. These are the only barefoot shoes I own. Except for the winter, I wear them daily. To the city, to nature and by bike. I also crossed a large part of the Rudná and Ponitrianská highways in them.
Vibram Fivefingers Vtrail toe shoes
Long-term experiment
Before I bought my toe shoes, I scanned my foot to see the size of my foot. After three years of wearing these shoes, I scanned my foot again and compared the difference. The values measured at the width of the foot differ only by a millimeter, which may be due to measurement inaccuracy. Surely the size of my foot did not increase by two numbers, as they say.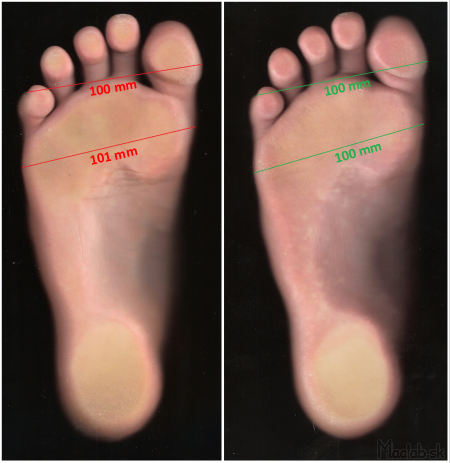 Change in foot size after three years of wearing toe shoes.
On the other hand, it should be noted that before I wore toe, I often went barefoot around the house and office. If the foot was to widen, it was long before wearing toe shoes. But what has changed is the ability to spread your fingers apart. Before, I could barely move my toes, and now I can move them freely, just like on my hand. When walking in the field, I use my fingers to capture the unevenness.
Fingers spread apart.
Toe shoes are not miraculous. Those who tend to walk barefoot will use their potential. Walking in them is pleasant. The disadvantage of the breathable construction is the low resistance to moisture. Just cross the damp grass and your feet are soaked. The shoes get wet quickly but dry for a very long time.