PVC bow 

How to make a bow out of a plastic tube
Tecnical note: this is only word to word translate.
Handmade wooden bow is finished artwork. Even more valuable is if we produced it with his own hands.Manufacture of wooden bow requires skill, tools and space to work with wood. Most, however, depends on the wood, which must be carefully selected and dried for several months. I already could not stand the wait and I ventured into the production of plastic bows.
Plastic bow is a quick way to make a simple bow and start shooting him. Flexible material can withstand switching. Perfectly plastic resists moisture and light. Price / performance ratio = 99%. My vision is that the bow available to anyone who is interested in archery.
Tempered thick-walled tubes suitable for bow is harder to come by. The best are made of PVC-U ASTM designated as Schedule 40 (SCH40). Commercially available water PVC or polypropylene are wholly inappropriate. The production of power bow around 35 to 45 lbs will need SCH40 pipe with an outside diameter of 26.7 mm and a wall thickness of 2.8 mm. The old units (cóloch) is called the diameter of ¾ ".
Length of pipe to split into individual sections and mark their marker. I started with an initial length of 124 cm.Who can be a different size than me, let sections calculated by a percentage of the total length of the bow. The bow is shorter, it is stronger and tougher. The strength depends on the bow flattening and reflection arms.
Prepare the wood chips, the amount of which is equal to, or slightly less than the diameter PVC pipe. Will place them in the sections C and D

Section of pipe with which we work nahrejeme hair dryer or over the stove. Attention to burn plastic. If the plastic is soft, place the tube plate and load it with all your weight. Get this one flat shoulder that gradual tapering from the middle to the end of the bow arm. Wait until the plastic cools and repeat on the other side.
Already one could shoot a bow, but further increases the speed of arrows forming. A Nahrejeme stretch, bend it on some circular container.

Achieved so bow with reflective arm.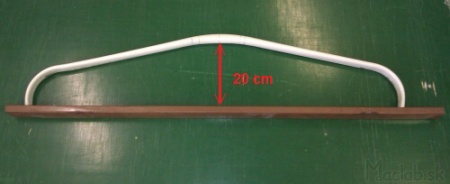 Nahrejeme center bow, both of which are sections of D, create a deflection of about 20 cm tall. At the same time the center of the bow a little art, that has fallen into better hands.

Nahrejeme section C, and arms bend so that the reflective and arms come into the center plane. First one side and then the other. As shown in the figure.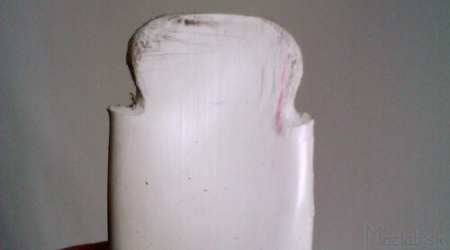 Dents to create the string. Put on the string and try to tighten the bow. How do I use the string nylon cord. If it is nicely balanced, nahrejeme deformed parts and finishes. After cooling, we can start using it.
If we are satisfied with the mechanical properties of the bow, we can paint it to look more attractive. I sprayed the brown with snakeskin effect, inspired by this video.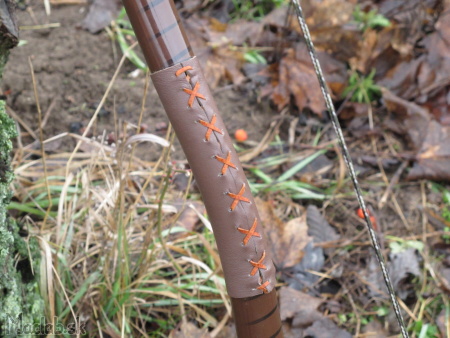 Flying arrow by Odier color and protect you center leatherette belt. The bow is then better hold because of nevyšmykuje hand.
The finished product: bow riding on the strength of 45lbs. From a distance or not knowing that it is made of plastic.
Short demonstration of fire.
Different shapes and strength bows
I did some experimenting with different shapes and forces bows. Top of the good produced rather weak bow, and then overeat at stronger. Even with 30lbs bow can have serious shoot. Too strong bow is sometimes stretch problem.

A simple reflex bow 25 # @ 28 ". Consists of a pipe length of 150 cm diameter 26.7 mm.
Strong bow 55 # @ 28 ". Consists of a pipe length of 150 cm diameter 33.4 mm.
Child / girly bow 15 # @ 20 ". Consists of a pipe length of 125 cm diameter 21.3 mm.
Where to continue?
Wooden Bow - manufacture of wooden bow, quiver and bow Cases.
Ballistic gel - Ballistic tests wooden bow and arrow.